MEET YOUR GUIDE TO MELT ON DEMAND'S NEW SERIES
If you've been MELTing with us for a while, chances are you've seen Hallee Altman around—she's a friend of Sue (and even an occasional MELT model!) and a certified Master MELT Instructor. She also has her own NYC-based Pilates studio, Candlestick Pilates—and pilates and creative movement are where her passion started. 
Hallee was certified by Romana Kryzanowska (Joseph Pilates' protégé) and has since presented at the Pilates Method Alliance conference and Balanced Body's Pilates on Tour. 
And now the most relevant info of the moment—she's the co-creator of our latest offering, MELTed Pilates! It all started when Hallee noticed a huge difference in the students who MELTed before their pilates practice—less compensation, better range of motion, and bigger results were made by her students (regardless of their age!) 
While Hallee's a firm believer in any pilates being better than no pilates (because people are moving, after all) adding MELT to prepare for pilates exercises as well as adding innovative variations to the pilates mat work and apparatus exercises using the MELT Soft Half Roller enhances people's practice by giving them a boost in efficiency and injury prevention. The result is MELTed Pilates—a perfect blend of two powerhouse methods. Whether you do classical or contemporary pilates (or have never done pilates at all) adding MELT is a game changer. You have a lot to look forward to as you explore and learn the foundational MELTed Pilates Prep Sequences with Sue and unique MELTed Pilates classes with Hallee. This collection is going to refine your practice and take it to the next level.  
Sue and Hallee developed the MELTed Pilates Instructor training curriculum and have trained hundreds of instructors who teach the format in group classes since 2015. MELTed Pilates is finally launching this August on MELT on Demand. Hallee is making history as the first instructor outside of Sue to present a practice on our streaming platform. We're thrilled to be able to bring subscribers Hallee's top-notch experience and approachable, enthusiastic teaching style. Spend a few minutes getting to know her in a little flash interview we like to call The Three Things Lightning Round. 
Hallee Altman, name three things that: 
Describe your personality as an instructor
Inclusive

Accessible

"An exceptional cuer" as deemed by Sue
Have been the biggest challenge in your personal Pilates practice 
Anything with extension

The splits!

Pushups
Describe MELTed Pilates
Efficient

Connected (in the core)

Fun!
People can expect to get from MELT Pilates
Ease of movement

Creates some Pilates epiphanies

Deeper core connection, which leads to better posture
Keep you happy
Humor! My husband makes me laugh (and he also makes dinner!)

I love a blind taste test! Same food, but two different brands. LOVE IT!

Organizing things in rainbow order. I'm type A
Keep you healthy 
 Movement!  I just started running

I revisited tap dancing

I revisited horseback riding
You're wearing right now
Alo yoga leggings

My studio tank: Candlestick Pilates

A DoTerra essential oil roll-on called "hope"
You have in your fridge right now
Oat milk

Berries

Bacon
Are on your music playlist when you're working out
Hamilton Soundtrack

Lady Gaga

"Classical Goes Pop" station on Pandora
You just can't live without
My family plus dog

My plants

My MELT Half Roller!
LEVEL UP YOUR BUSINESS WITH LEVEL ONE MELT TRAINING
Whether you're a wellness or fitness professional or are starting a new business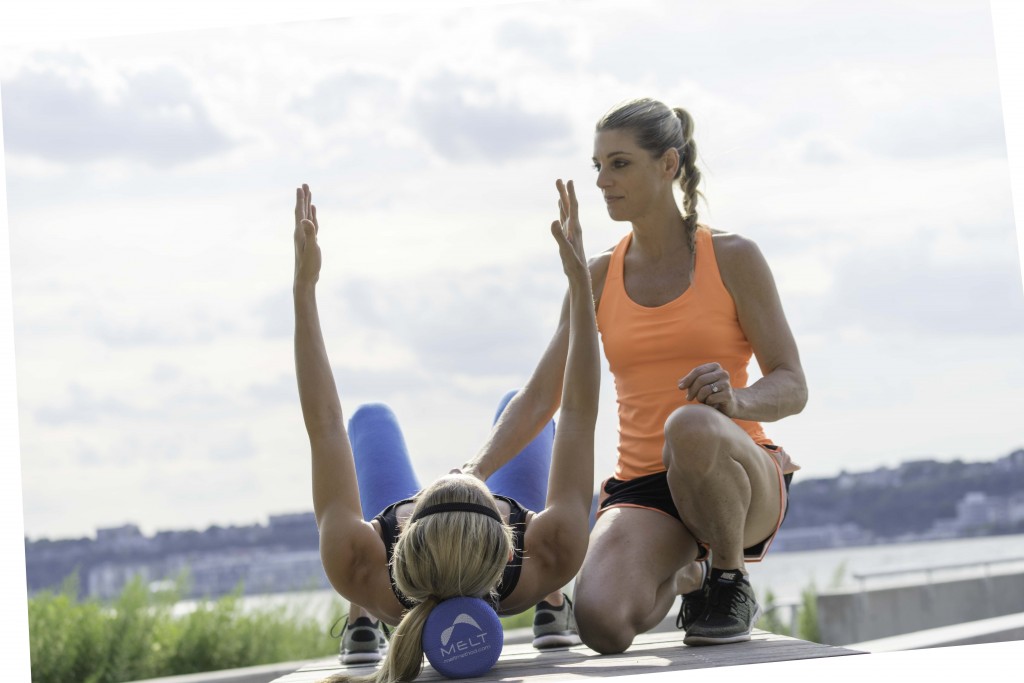 Made to mimic a therapist's hands and forearms—gentle, soft, slightly grippy, and warms up while you use it.
Unlock body-wide benefits with this kits—each ball is meant to apply a pressure similar to a therapist's thumb.
Get the most out of your MELT (and save a bunch too!) with our specially priced bundles of self-care tools.